CHILDHOOD MEMORIES FROM MY MAMA
This is a recipe my mama used to make when we was kids, and I learned it early because it's real easy to do and it tastes good. She always referred to it as a compote, though it doesn't exactly fit the category. In any case it's a real nice side dish, and pretty to look at. It looks good enough that I bring it to the table in the Aarons' household, and Grandma Aarons always lights up when I fix it. She likes it with a nice pork loin or pork roast.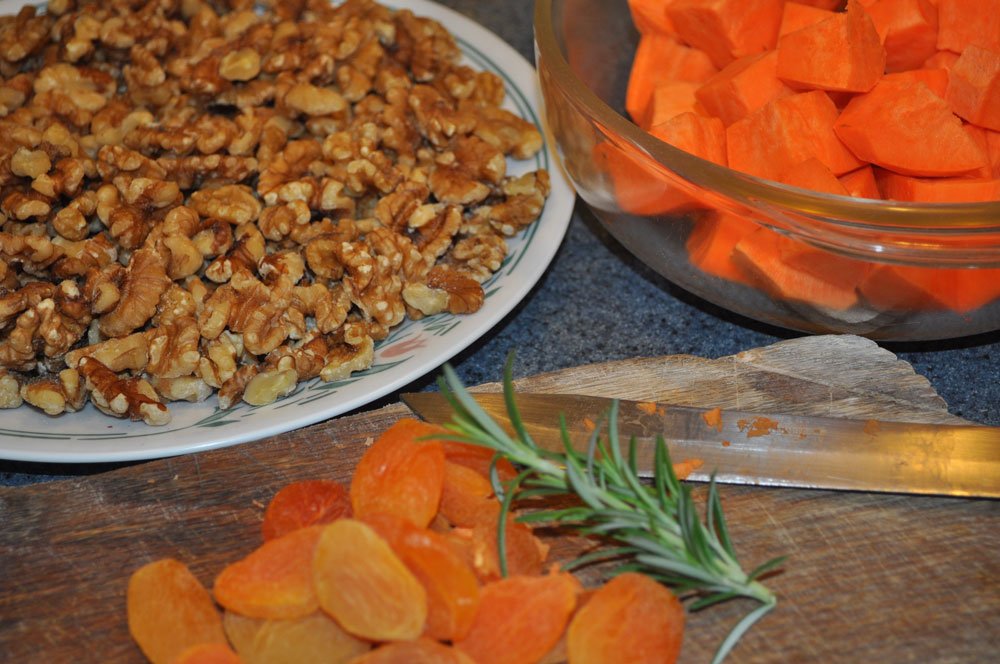 Finding good sweet potatoes – I mean real good, smooth sweet potatoes that don't have hard skins or feel dead in your hands – can be hard in the north, 'cause northerners let them get too cold when they ship 'em. 55 degrees and they start dying and drying, and pretty soon they're these big old lumps that's like peeling a bowling ball. But, if you can get your hands on some good ones, this is worth making.
Peel, dice into ¾ inch chunks and steam your sweet potatoes until they are easy to pierce with a knife tip, but not overcooked. Cool them just enough to handle them. Then, for every pound of sweet potato Add:
½ teaspoon of salt
2 tablespoons real, dark maple syrup
2 tablespoons of melted butter
½ cup or so of broken walnuts (not chopped.)
1 cup of dried Turkish apricots, cut into halves unless they're huge, then quarters.
One good sprig of fresh rosemary, rough chopped
Toss everything with your hands so as not to break up the sweet potatoes, put it in a covered casserole dish and bake it at 350 degrees for half an hour – until it's hot. Careful that the apricots don't get brown because they do get chewy enough to pull your dentures out. My brother lost a baby tooth that way once.
Garnish it with a few walnuts, a little more rosemary, a drizzle of butter to shine it up, and take it to table.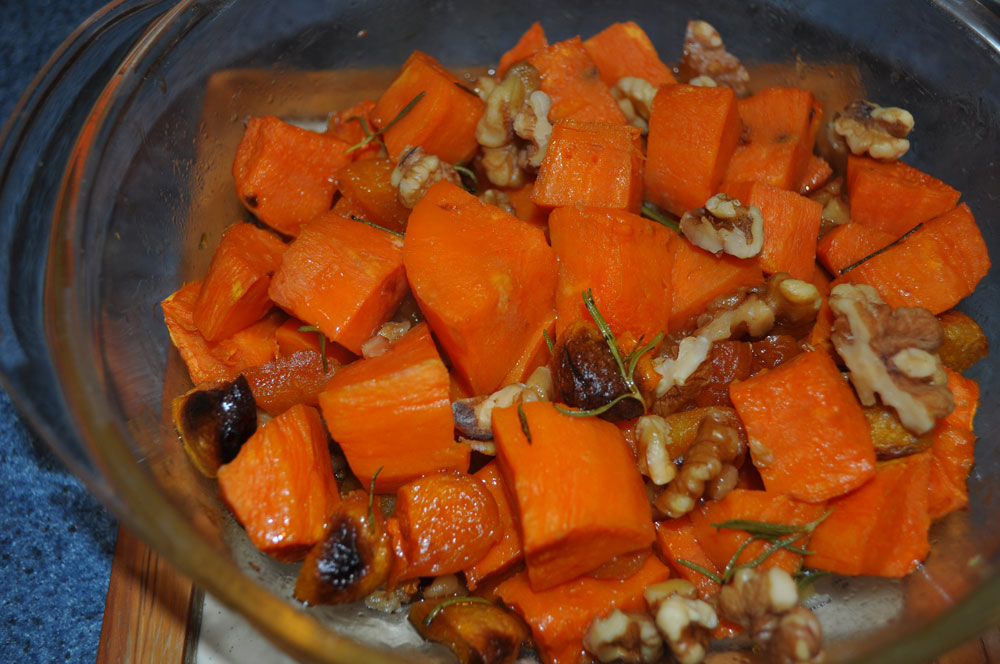 Gloriosa Daisy Polk Ruiz