…a long, fancy name for a thick cream
chowder with corn, beans and chicken…
I remember so well the night Bud brought all of us home in that old red Mercedes of his – the one his sister wrecked. We'd been burned out of our camper, the boys was scared stiff, and we was cold, and dirty and so, so tired. He stopped and bought us hamburgers, and they tasted like steak. Mrs. Aarons, Bud's Grandmother, she welcomed us in like we was family. The boys got a real nice, warm bath, and I got a shower – a hot shower – with soap, and shampoo, and clean towels. I felt like I'd died and gone to heaven. Mrs. Aarons, she gave me this robe that was soft, and smelled good, and even at that hour she let me run the washing machine and the dryer so's we had something clean to put on come morning. I kept that robe until it was wore clear through. Every thread in it told me how blessed I was to be in a household with Peter and Esther DiPirelli Aarons.
Bud, he was sick with a fever that first night, and I went out into the meadow and found some yarrow, and got some dried herbs out of the kitchen and made him what he called "Nas-tea." It made me laugh, but he did feel better, bless his heart.
That next day or so as I was preparing myself to become his housekeeper, I asked him what sort of food he liked to eat. One of the things he said was, "I like soups if they actually have stuff in them," so I made him and his sainted grandmother a version of "Sopa de Crema de Maiz con Pollo". It's a long, fancy name for a thick cream chowder with corn, beans and chicken. He loved it. He still asks for it from time to time, and, like I did then, I make enough for all of us. I usually double or triple this recipe. Just remember that for every pound of chicken you add, double all the ingredients. You can make it in a Dutch oven, but you got to cook it real slow, so I use a big old crockpot.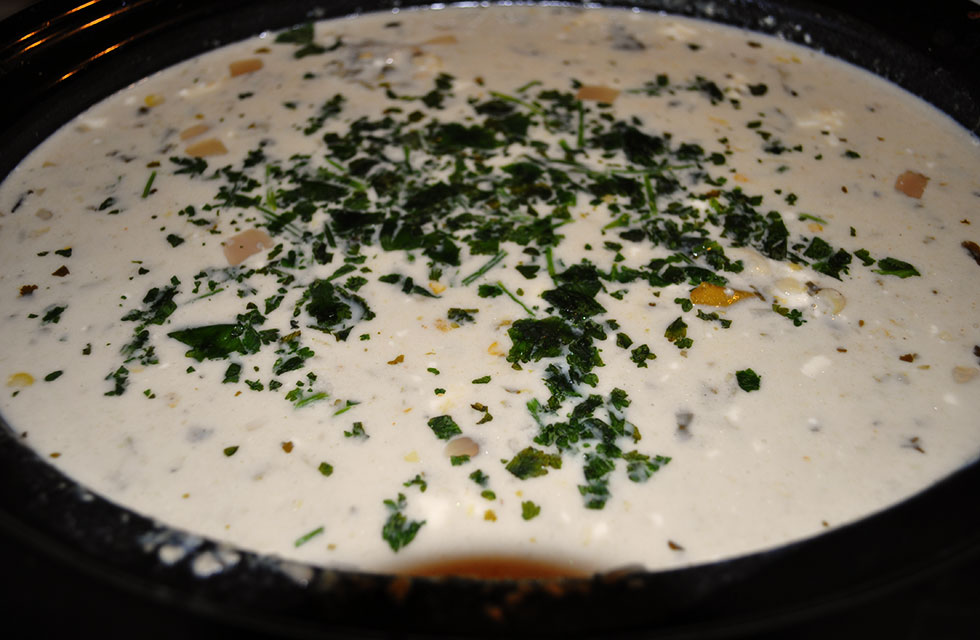 SOPA de CREMA de MAIZ CON POLLO
(A thick corn chowder with chicken and beans)
One pound of boneless, skinless chicken breasts, cut into medium sized chunks
Fresh salt and fresh ground pepper to taste
1 teaspoon comino
1 teaspoon fresh oregano
½ teaspoon chili powder
¼ teaspoon cayenne pepper
8 oz diced green Anaheims, fresh or canned (add ½ a teaspoon or so of jalapeno if you want a little more heat, but be careful.)
32 oz of cooked Great Northern beans (or two 15 oz cans if you're into using canned stuff.)
1 cup cream (or half and half)
8 oz cream cheese at room temperature. Nice and warm, so it falls apart
½ cup fresh cilantro, chopped up good
1 good sized onion diced up fairly fine
2 tablespoons minced garlic
3 cups chicken broth
Juice of a small lime
4 cups of sweet corn stripped from the cob (Frozen corn works good, too, but not the creamed kind)
Put your chicken in the bottom of a big, slow cooker. Sprinkle it with the salt, black pepper, comino, oregano, chili powder and cayenne pepper. Add the onion, garlic, broth, beans, green chilis, corn, lime juice and cilantro. Cover it all up and cook it for 8 hours on low or 4 hours on high. Half an hour before you serve it, put the cream cheese, the cream and a little broth from the pot into a blender, blend it until it is smooth and pour it into the pot. (You can add the cream cheese and the cream right into the pot. Give it a stir, cover it, turn the pot up to high and hope the cheese melts. Usually it does, but sometimes there's little bits of cheese floating around.)
I always serve this with fresh corn bread.