"It was better'n calling it sweet potatoes and roots again."
This is one of those recipes that seem to appear in families. I'm pretty sure this one stemmed from necessity. When I was a little girl my gramma would make this. She would tell us that the dried cranberries was rubies, the circles of carrots was gold doubloons, the chunks of sweet potato was chunks of gold, and the walnuts (or peanuts or pecans, depending on what we had) was topaz. How they come to belong to Saint George was never revealed. When I asked my mama many years later why this dish was called what it was, she just laughed and said, "It was better'n calling it sweet potatoes and roots again." We did eat a whole lot of sweet potatoes and roots, and my grandpa's brother, he had access to all kinds of dried fruits and nuts, and Grandpa would trade him fish for 'em.
When I first come into the Aarons' household I was real hesitant to fix things like this, being they was homely and cheap, but both Mrs. Aarons and Bud encouraged me, and when they loved this dish and others like it, it made me feel … I don't know … like my upbringing was worth something. Like what I had to offer was something to be proud of way down deep and way back. These days, by request, I serve it every Thanksgiving. Anyway, here is this simple dish. Steam it first to soften the vegetables, and then put it in a slow oven.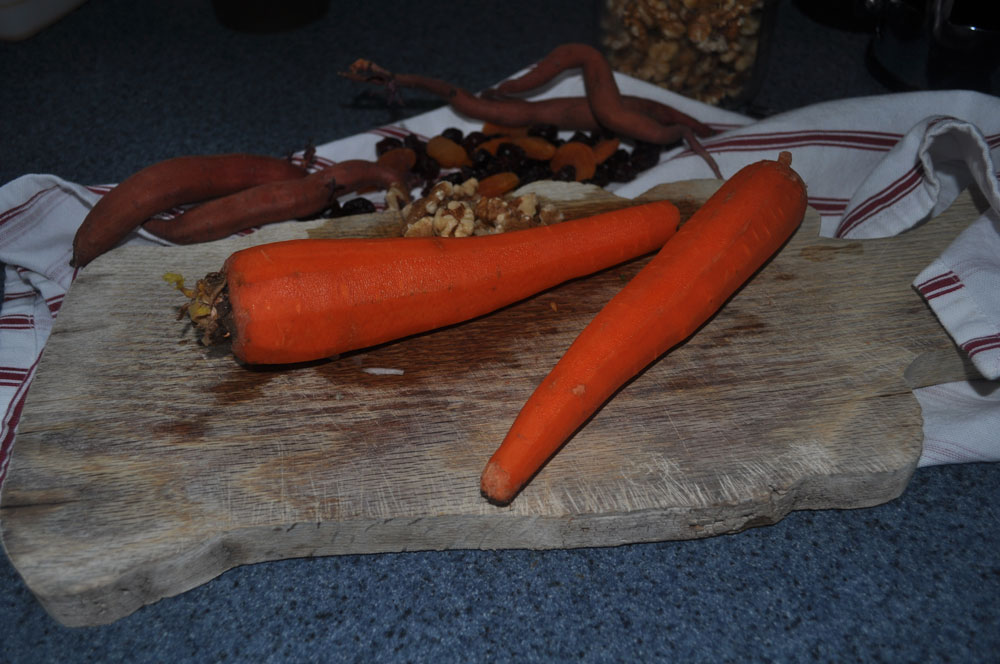 1 & 1/2 Carrots per person
1/2 Sweet Potato per person
1/2 stick of butter (+1 T of Butter for pan)
1/2 handful dried cranberries per person
1/2 handful dried apricots per person
1/2 handful of broken walnuts per person
1/4 cu maple syrup, brown sugar, or molasses
Butter and set aside a covered casserole dish that fits the number of folks you're feeding.
Figure a carrot and half a good sized sweet potato per person, peel and chop the carrots into rounds.
Peel and dice the sweet potatoes into half inch chunks.
Toss them into a steamer or the microwave and cook them until they are easily pierced with a knife tip, but not so's they are real soft and shapeless.
Put them into the buttered casserole dish
For every four carrots and one whole sweet potato, add a closed handful each of dried cranberries, dried apricots and broken (not chopped) walnuts or pecans. You can use peanuts in a pinch, but they're not as nice.
Melt about half a stick of good butter and mix it with a scant quarter cup of maple syrup, brown sugar or molasses, and pour it over the vegetables.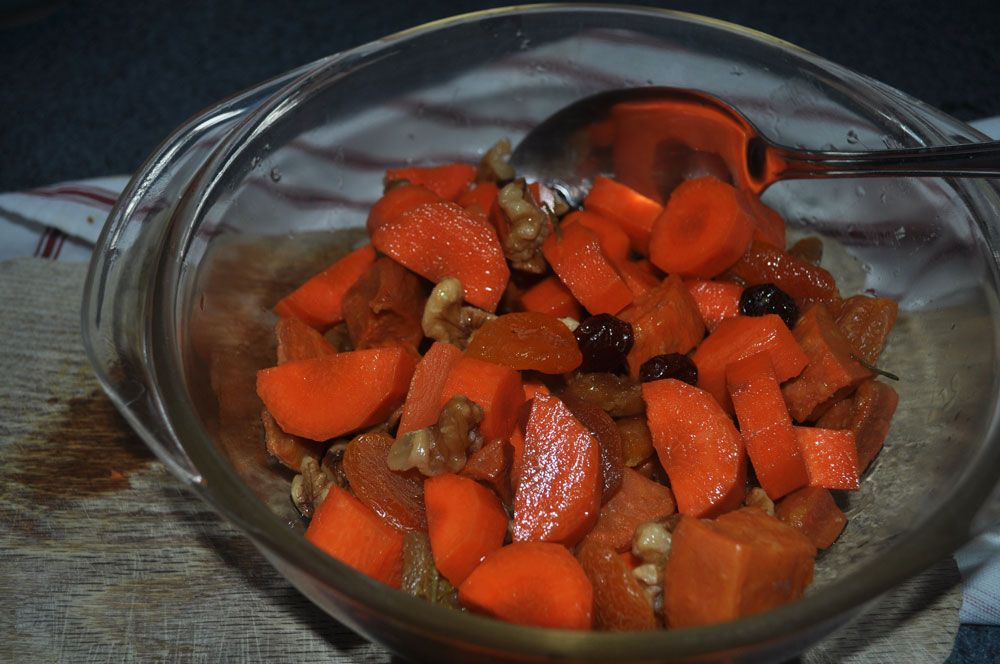 Toss everything good, cover it, and bake it in a 325 degree oven for about 30 minutes. Be sure you cover it, and don't overcook it or the cranberries will turn to BB's and the apricots will pull your fillings right out of your head.